Since joining the firm in 2008 as a trainee Paul Mullen has developed into an accomplished criminal defence lawyer of some repute. In March 2018 he was promoted to the role of director within the firm. In 2019 he was granted extended rights of audience as a Solicitor Advocate meaning he is qualified to represent clients in The High Court of Justiciary.
Regarded an expert trial lawyer and accomplished court performer he has conducted very many jury trials throughout Scotland and has an enviable trial record to boot. He is available for cases outside of Glasgow and will often travel to Edinburgh and beyond to defend clients.
He is equally adept at representing clients out of court too. He is on-call twenty-four hours a day, seven days a week. He routinely provides assistance for clients in police stations throughout Scotland and will attend at short notice often at weekends and evenings. He is one of only a few solicitors in Scotland to have completed SUPRALAT (Strengthening suspect's right in pre-trial proceedings through practice-oriented training for lawyers) training so as to ensure that clients are provided with the best form of defence even before the case goes to court.
As the director at the firm responsible for training young lawyers, Paul is obsessive about arranging CPD for his colleagues. He routinely organises and presents seminars on subjects pertinent to his practice such as:
The Rape Shield
Contempt of Court
Use of Technology in Courts
The art of cross-examination
Dealing with vulnerable witnesses
Paul also prides himself on his good relationship with clients, the court and the prosecution service. With a down-to-earth manner and an ability to convey legal matters in an understandable way for clients, he always tries to calm any fears that a client may have about going to court or even dealing with a lawyer. He will always reply to correspondence and is more than happy to provide clients with his mobile phone number to answer queries or discuss strategy at a time convenient to the client.
Indeed, Paul has been at the forefront of technological advances in the profession which aim make it easier to communicate with clients. He was part of a successful pilot scheme launched in 2013 which uses video technology to communicate with prisoners without the need to physically travel to prison. He regularly contacts clients via Zoom, Microsoft Teams, Skype or FaceTime for the purpose of keeping clients informed about their case if they are too busy to travel to the office due to work or family commitments.
Paul is also a passionate believer in the ability of positive use of social media. He can often be found communicating with clients, counsel and academics regarding the legal issues of the day either on Twitter or Instagram. If you wish to follow Paul on social media then please do so by searching his handle @LivBrownCrime.
Cases of Note
HMA -v- Joanne Threshie
In this case Paul defended a solicitor who was charged with murder on an art and part basis. Trial took place in Autumn 2019 at the High Court of Justiciary in Glasgow. The position put before the court was that another person who had previously been convicted was the truly responsible for the murder and that the accused was not at the locus at the material time. It was also denied that she had in anyway assisted or conspired in the murder of the deceased. Our client was cleared of any wrong-doing on a no case to answer submission after eight days of trial.
The Etizolam 'Test' case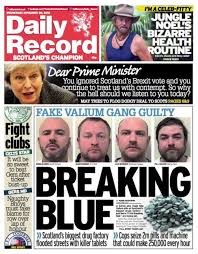 In this case, the first of it's kind in Scotland, a group were charged with trying to flood West-Central Scotland with the class 'C' drug Etizolam from a factory in Paisley. One of the legal matters to be addressed was the fact that when the operation began the production of etizolam was not an offence and only became so when Psychoactive Substances Act received Royal Assent in 2016. This was months after the factory began operating. At it's peak it was producing quarter of a million tablets an hour.
The 'Raithburn Road' Murder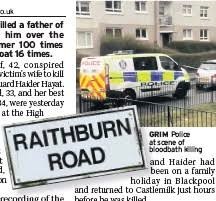 Early one summer morning in 2018 police and ambulance crew were called to an address in the south-side of Glasgow to reports of several children and two women being severely assaulted in a domestic incident. What transpired, however, was a Crown case alleging that the apparent victims were actually the perpetrators of a barbaric crime where over 100 separate blows were delivered to the deceased in a frenzied attack. The question for the jury being which of the three accused was responsible and whether the other two were guilty of conspiring to commit a murder.
The Tragic Death of Lauren Wade
The death of any child is tragic, particularly so the circumstances relating to the demise of young Lauren Wade who died in 2015, aged just 2. It wasn't until 2017 however that those with responsibility for baby Lauren instructed Paul Mullen. The case was a very difficult case indeed as a litany of medical experts failed to agree upon the exact cause of death. Accordingly, after representation were made the Crown withdrew the indictment for murder and instead the accused accepted the lesser charge of neglect.
Ralph Goldie – Successful Murder Appeal
After a six day murder trial at the High Court of Justiciary in Glasgow the client was found guilty by the jury under deletion of much of the charge. An appeal was taken on the basis that what the jury left in the charge didn't adequately amount to a charge of assault as it didn't chime with what the Crown evidence was or how they were charged in respect of the mechanism of the assault by the trial judge. It was submitted on behalf of the appellant by Senior Counsel, Brian McConnachie QC, that the charge that remained didn't make sense and the jury should be directed to reconsider their verdict.
TThis course of action was not, however, adopted by the trial judge and conviction followed. Mr Goldie however successfully appealed his murder conviction. The decision of the appeal court can be read here.
Personal Information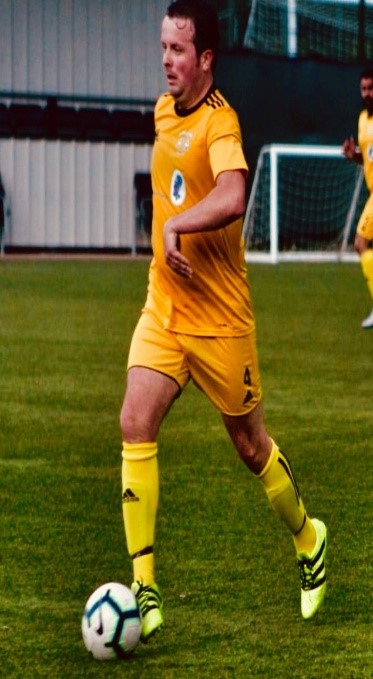 Paul lives with his wife Alison and their young family. In what little spare time he has he enjoys golf, running and playing football. He continues to represent the Glasgow Bar Association who play fortnightly in a local over-35 league.